With the emergence of eCommerce and eBusiness, there are quite a number of small scale businesses on the social media ecosystem. The convenience it brings has made them a go-to for quick transactions.
For instance, if I want to get a wig for a loved one, Instagram easily comes to mind. That's because I've seen some alluringly displayed wigs on some vendors' pages.
However, here comes the problem; you order a product but receive something very much different from what was advertised. You decide to contact the seller. Assuming you get a response, he/she then asks you to return the product.
Now all you need is a refund, which doesn't seem to be forthcoming. With the pile of excuses hurled at you it becomes evident that that's all you'll ever get. At this point you've gotten tired of the rigmaroles.
No matter how hard social networks try to fight off scammers, they just keep coming back. There are several vendors on Instagram that are notorious scammers, but their investments into multiple Ads appeal to unsuspecting victims.
They've branded themselves so well. They make their social media pages and websites appear so professional that you wouldn't suspect a thing. They've also developed good interpersonal skills. These and other reasons make it easy to assume they are legitimate.

First and Foremost
If you live in a developed country, you can simply press charges. Although, that could later cost you some money. In Nigeria, however, you have to be very discreet because the processes are a tad slower. Hence, do a proper research or investigation on a seller before you purchase anything online.
Secondly, genuine customers' feedbacks can be helpful as well. I've tried to buy some really fancy clothes on the gram, but the ones I received left me feeling meh. I had to return them, and how I got back my money is what I'm going to share in this article .
Thirdly, you don't want to appear desperate. Scammers usually prey on desperate souls. They'd offer you some fascinating deals. Once they notice you are keenly interested, they know they've caught a prey. The best way to deal with scammers is to avoid them.
What should I do if I've been scammed on social media? How can I get my money back? Well, if you have unfortunately fallen victim to social media scam and you want a refund, below are some steps to take.
How to get your Money Back
When they refuse to refund your money after you've returned their products, here's what you should do;
Step 1: Investigate
Try to find out more about the person or page. You know what a girlfriend does when she thinks her boyfriend is cheating, you want to do that. She'd definitely find whatever she needs to know if she keeps an open mind.
Find somewhere to write down all you've discovered about the scammer; full name, account numbers, pseudonym, and known associates. You can carefully reach out to the known associates to know more about the person of interest.

Step 2: Gather all the Evidence
You probably have been chatting with the vendor on a social network, so try to keep screenshots of the conversations you've had. If you've chatted on several networks, try to keep them as it would be handy later on.
The proof of payment would also be handy. You can head over to your bank to get a statement of your account, and write out the transaction information of your payment.
You have to follow proper protocol. It isn't the right time to take these documents to the bank, because mere words or documented evidences are not enough to freeze an account. If it were so, people would maliciously want to block accounts of their perceived enemies.
Step 3: Obtain a Court Order
Now, it's time to make it legal. You can go to a court closest to you with the evidences you have and swear an affidavit as to the incident. Then, apply to a magistrate court to get an order for the account to be placed on hold.
If you provide sufficient information as I've mentioned, the court order may be approved. You'd need the court order when you are going to the bank, as that's the only warrant to freeze an account.
The court order can request for three things: ordering the bank to release the BVN of the account, and all other account numbers linked with it, the freezing of the accounts and transferring of the amount in question back to you.
Step 4: Take the Court Order to the Bank
You can then proceed to take the court order to the bank of the scammer if the process is successful. Simply tell the customer care you've been directed the court to inform them of a fraud case, you'd then be taken to the personnel in charge of such issues. You can as well carry along the other documents used in getting the court order. That would enable the bank to place the account numbers on restriction.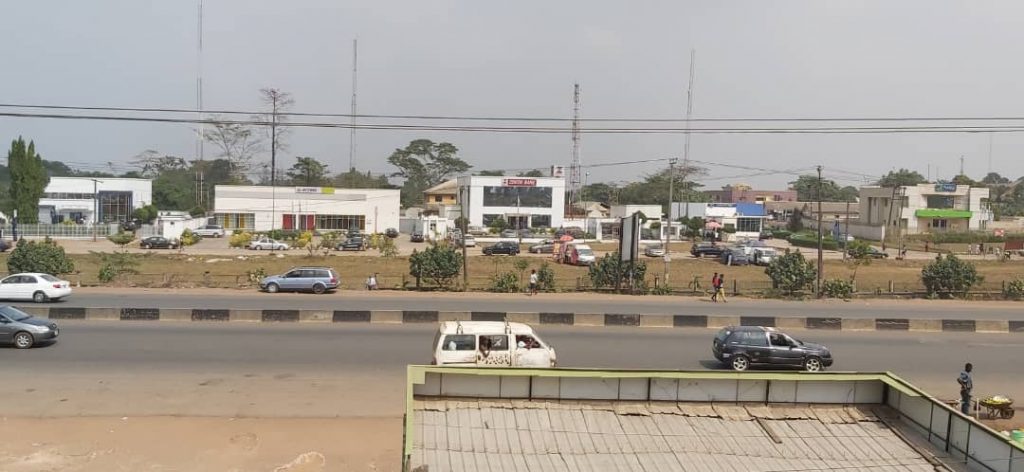 Step 5: Involve Other Criminal Agencies [Not Compulsory]
If you'd like to make the case stiffer, you can send the documents to EFCC or ICPC. The information can be sent to info@efccnigeria.org. Getting a lawyer to help you write the petition would make it easier for the security agencies to act on what you've sent.
The amount in question doesn't have to be very big for them to start investigations. You can also copy the scammer's bank and copy anticorruptionunit@cenbank.org before sending the mail by using the CC tab.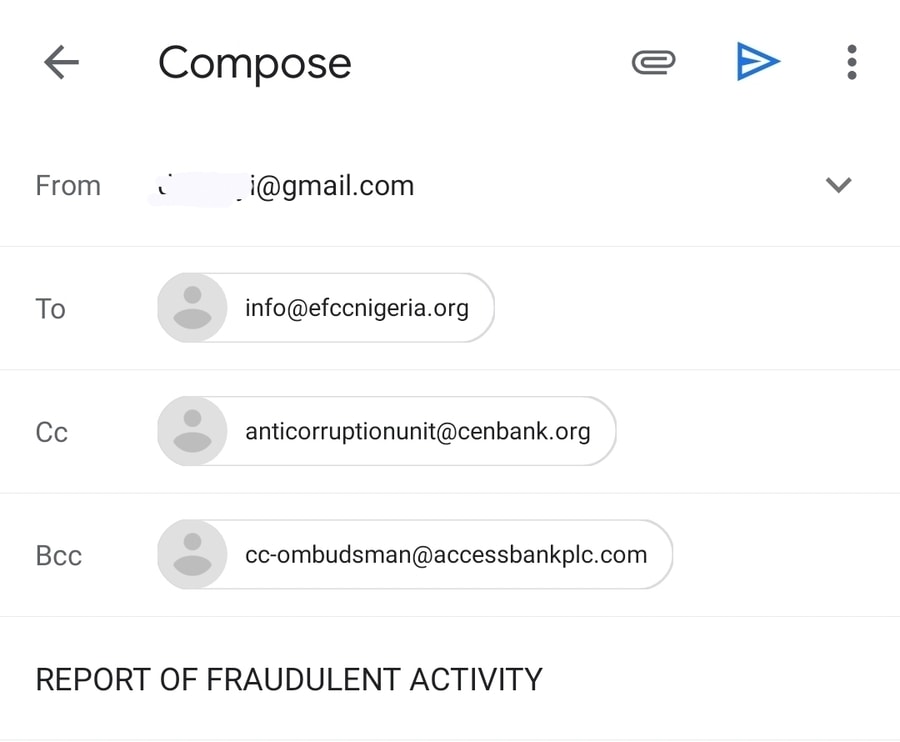 Step 6: Request 5x Your Stolen Funds
When the scammer see that you are ready to go to any length, they'd reach out to you for settlement. Don't forget to collect five times the money. Out-of-court settlements aren't usually the best, but they are a tad less stressful. And the scammer would be eager to pay you to drop the case.
Final Word
If you're suspicious of any social media vendor, it's best to avoid them. That'd save you some legal stress and precious time. On side note, you could report such suspicious accounts to Instagram, Facebook, Twitter or whatever social network you found them. Don't forget to share this with your friends. An enlightened society is a safer society.